copied from http://www.cnn.com/2003/SHOWBIZ/TV/11/20/paris.hilton.ap/index.html
Paris Hilton cancels Letterman appearance
'Simple Life' star will not do media for show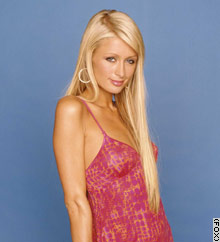 Paris Hilton



NEW YORK (AP) -- Socialite Paris Hilton, star of an upcoming Fox reality series and an inadvertent Internet icon, is pulling out of her announced interview on David Letterman's "Late Show."
Hilton was to have appeared November 26 on the CBS late-night show, the network said Wednesday. A spokesperson for the show said Hilton had been booked as a guest several weeks ago.
But on Thursday morning, a spokesman at Dan Klores Communications, the public relations firm that represents Hilton, said the 22-year-old was scrapping all planned media appearances to promote her new TV show.
The heiress to the Hilton hotel fortune co-stars in the upcoming Fox series "The Simple Life," in which she and Nicole Richie, Lionel Richie's daughter, live on a farm for a few weeks. A two-part premiere airs December 2-3.
The spokesman said no slight on Letterman was intended. He added that Hilton wants to keep a lower profile because of the extraordinary amount of attention she's received from her now-ubiquitous Internet porn video.
Hilton said this week that she was "embarrassed and humiliated" that a homemade sex video she shot three years ago with then-boyfriend Rick Salomon has been making the rounds online.