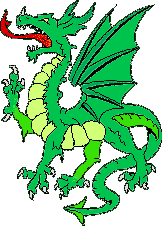 by Peldor & Tanya
The Green Dragon Inn offers the very best food and service presented in an amiably public or intimately private atmosphere. All ingredients for our dishes are of the highest quality: rare spices from the far corners of Oerth, meats raised locally, produce grown locally or quickly shipped ripe from the south in the winter, and seafood taken from the River Selintan, Nyr Dyv, or even the Woolly Bay and Azure Sea (teleported fresh each day from the Pomarj to Greyhawk).
The bar and kitchen are open all hours, while the chefs perform their culinary arts from early evening to midnight.
For guests registered at the Inn, room service is available at an additional cost.

From the Bar
Ales, Beer and Cider
Green Dragon Bitter
Brewed here at the inn, our bitter is considered to be among the best in the city of Greyhawk.
Wharfgate Ale
Some call it rough and unfinished while others call it an amber blessing. This is good and strong ale!
Druid's Walk Ale
A smooth ale with an unexpected kick for the more sophisticated and demanding ale drinker.
The Processional Malt
Considered by many to be the official drink of Greyhawk, this pleasant brew has a wonderful nutty aftertaste.
Elmshire Cider
A potent apple cider pressed and fermented by the Halflings of Elmshire to the north.
Wines
House White - available by the glass
An off-dry syrah from our local Ery Vinyards.
House Red - available by the glass
A full bodied cabernet from our local Ery Vinyards.
Celadon Cellars' Riesling vintage 576
This sweet wine comes from the wet southern portion of Nyrond and is bursting with fruit!
Hokar Valley Palomino vintage 574
Proof that wine can be made even in the hot dry climes to the far south, this unusual white is very dry and light with an intriguing hint of pine that comes from aging in pine barrels rather than the traditional oak.
Raven's Leap Semillon/Sauvignon Blanc vintage 575
This wine from Celene combines the Semillon's fruity flavor with the acidity and full body of the Sauvignon to provide a well balanced dry white.
Urnst Chardonnay vintage 570
The far eastern reaches of the Cairn Hills are ideal for growing chardonnay grapes, and this delightful wine is proof of that with a full body, hints of citrus and melon, and a long yeasty finish.
Teesar Torrent Sauvignon Blanc vintage 575
Nestled in the Blemu Hills of the far away North Province is one of the best vinyards on Oerth where members of the Nebbiolo family have been vintners for time out of memory. This wine is crisp, grassy, with a flavor and pungency that appears to be the very essence of ripe gooseberries.
Teesar Torrent Viognier vintage 567
Take a walk on the wild side, with an exotic and rare white wine from the Nebbiolo family vinyards. Boasting an exquisite bouquet, this wine continues to deliver bold fresh flavors sip after sip, with a smooth dry finish that leaves your mouth and nose begging for more.
Good Bluff Grenache vintage 574
Don't let the name fool you, this red from the Good Hills of Keoland is direct and just a little plump!
Sangiovese of the Pomarj vintage 573
This is one of the most popular wines in the Pomarj region, and is difficult to find elsewhere. This wine has hints of cherry, tobacco and herbs with lots of leg!
Urnst Pinot Noir vintage 573
A rich fruity red with lots of character and hints of pepper. This "big red" is from the eastern reaches of the Cairn Hills, where wine-making is a strong tradition.
Raven's Leap Zinfandel vintage 571
This complex red is crisp and has a strong backbone. The subtle flavors of mild fruit combine with the cigarbox aroma to make for a refreshing experience.
Headlands Merlot vintage 570
From the Iron Hills of Onnwal comes a full bodied, easy to drink red with dark berry flavors and a bite of pepper.
Teesar Torrent Cabernet Sauvignon vintage 562
A masterpiece from the North Province, where the Nebbiolo work their magic with grapes. This perfectly balanced full bodied red has a graceful bouquet, lush flavors of black-current with a dab of chocolate and a lingering aftertaste.
Apertifs and Dessert Wines
Hookhill Orange Muscat vintage 572
A forward little wine with citrus overtones from the highlands of Gran March. Sweet and enticing!
Cliffside Sherry vintage 574, 567 and 528
We have a selection of vintages from the main producer of fine sherry on Oerth. The Gull Cliffs of the Great Kingdom are synonymous with sherry, and the Malvasia clan of Cliffside have been the undisputed masters of their craft for centuries.
Aerdy Port (10 years) vintage 566
A fine vintage port from the Pontylver region of the See of Medegia with plenty of body and a full nose.
Mentrey Port (32 years) vintage 544
A splendid vintage port with intense flavors and aromas! Few will dispute that of all the Ports from the See of Medegia, the best are produced at Mentrey.
Mentrey Port (88 years) vintage 488
Yes, we mean that Mentrey Port! You must travel to the Spindrift Isles to find another source for this port of ports - considered by many to be the best vintage port of all times.
Densac Madeira (56 years) vintage 520
Although the creation of the first Madeira wine was by accident centuries ago by the wayward (and some say drunk) Captain Angard, the tradition of taking the casks out to the Densac Gulf to age is still maintained in Monmurg.
Solnar Madeira (95 years) vintage 481
Like all of the great Madeiras, this vintage was produced on Fairwind Isle, and then aged on many sea voyages to the Solnar Ocean.
Oljatt Madeira (134 years) vintage 442
Liquid gold. Produced on Fairwind Isle and aged during trips through the Oljatt Sea, this magnificent Madeira has aged acceptionaly well, and offers the senses the full range of complexity possible for any single wine.
Mára Lissëyulda various vintages
As Toff Almec, the late Prelate of Almor was fond of saying, there is no sense in mediocre champagne. We could not agree more, which is why we only serve champagne from the eastern shores of the Relmor Bay, where climate and experience yield the very best champagne. The best of the best comes from the town of Chathold, which is what we offer you with Mára Lissëyulda.

From the Kitchen
Baked Goods
All breads are baked fresh daily and include sourdough, rye, wheat, and pumpernickle.
Hotcakes
A simple light batter cooked in a pan. Served with butter and maple syrup.
Cookies, Cakes and Pastries
Various selections prepared daily.
Grains
Rice
Steamed, light and fluffy.
Bulgar Wheat
Cooked course wheat served with a splash of lemon, fresh chopped parsley and mint.
Corn
Fresh corn on the cob baked, then dotted with butter and lightly sprinkled with salt.
Soups
Onion

Sweet onions sauted in butter, then combined with beef stock and simmered. Finished off with a crust of cheese, melted in the oven, and bread cubes.
Mutton Stew
Chunks of seared mutton, potatoes and carrots stewed in a thick lamb stock.
Squash
A delightfully smooth puree of steamed butternut squash seasoned with a dash of nutmeg. Served with creme fresh.
Salads
Green Salad
Fresh greens tossed with a light vinegrette.
Spinach Salad
Crisp spinach leaves tossed with crisp-fried pancetta and a fresh herbal mayonnaise.
Fruit Salad
Seasonal fruits tossed together. Unavailable during winter months.
Eggs
Basics
Any number served any way, poached or fried.
Omelet
Lightly beaten eggs saute'd into a crepe' and filled with cheeses, grilled vegetables, or ham.
Meats
Rib-eye Steak
One inch thick and grilled to perfection.
Pork Tenderloin
Four medallions marinated in a blush wine and grilled just so. The very best of the pig.
Mongo's Lamb
A whole leg of lamb roasted to juicey tenderness.
Smoked Beef Ribs
Meaty short ribs marinated in red wine and smoked over alder, then grilled to order.
Spare Ribs
A full rack of pork ribs boiled with herbs, then smothered in a tangy tomato sauce and grilled to a fiery-red finish.
Mutton
Slow roasted until tender, slices are carved from the roast and braised in their own juices when ordered for the ultimate in succulence.
Ham
A sizeable chunk of smoked and baked ham, served glazed with honey.
Poultry
Roast Chicken
A whole chicken splashed with lemon juice, rubbed with thyme, then roasted and finished off with cracked pepper.
Glazed Duck
Set in a thick lemon and brown sugar marinade overnight, each duck is slow roasted until its skin puffs out into a crunchy layer and the meat is tender and juicey.
Seared Goose
Blanched and hung to dry, this goose is then placed on the grill until its skin is crispy, stuffed with orange, then slow roasted until tender.
Fishes
Trout
Pan fried and fresh.
Blackened Catfish
Coated in coarsely cracked pepper and fried until black.
Salmon
A fillet of salmon grilled briefly on either side, then roasted.
Vegetables and Fruit
Vegetable Mix
Seasonal vegetables served steamed, roasted, or grilled.
Roasted Potatos
Drizzled with olive oil, thyme and garlic, these small red potatoes are roasted until tender on the inside and crunchy on the outside.
Baked Onion
A yellow onion baked on coals until sweet and tender inside.
Apple Mash with Ginger
Tart apples baked until soft, peeled, then mashed with fresh ginger.
Fruit Mix
Seasonal fruits served fresh.

From the Chef
Our featured dishes change periodically. Special requests are welcome.
Appetizers
Escargot
Snails sauteed with butter, garlic and a touch of lemon and presented in their shells.
Tricolor Torte
Layers of gorgonzola, pesto, and a tapandade of sundried tomatoes molded into a dome and served with toasted bread.
Duck Confit
A quarter of a duck fried in its own juices until crisped, then sliced thin and set on a bed of spinach.
Roasted Garlic
A large bulb of garlic baked until soft, sweet, and delicious!
Brie in Puff Pastry
A small round of brie baked in a shell of puff pastry.
Entrees
Pepper Seared Venison Steaks
A pair of venison tenderloins coated with pepper and seared on both sides, then braised in fruity red wine and sundried black cherries. The steaks are nestled between a squash flan and Potatoes Maxims.
Rack of Lamb
An herb and olive oil encrusted rack of lamb ribs is encircled and stuff with wild mushrooms, potatoes, carrots, and then roasted until succulent. Presented au jus or with a mint sauce.
Lacquered Duck
A plump duckling stuffed with exotic spices, dry-glazed for four hours with malted sugar and lemon juice, then roasted at high temperature until the skin forms into a crackling black lacquered delicacy, sealing in the birds flavors. The duck is accompanied with stir-fried vegetables, green onions, plum sauce, and thin rice pancakes. Orange slices and lechee nuts arrive after dinner. (Please order eight hours in advance.)
Chicken in Penne
Lightly grilled chicken breast diced and tossed with penne pasta and a vodka cream sauce. Accompanied with steamed vegetables.
Lobster
Fresh lobster split, grilled and topped with garlic butter. Served with herbed baby potatoes and a wilted greens.
Sea Bass
A large seabass is coated in red peppers and other spices, then roasted at a very high temperature until done. The resultant fish has a crispy skin that practically glows bright red and soft delicate flavored flesh. Served atop a bed of safron rice with sauted garlic spears.
Smoked Salmon Ravioli
Salmon smoked over hickory and stuffed into ravioli pasta, which is tossed in a light wild mushroom cream sauce.
Desserts
Chocolate Sufflé
A small chocolate sufflé served in a pool of raspberry sauce with creme fresh.
Creme Brulee
A traditional custard with a freshly made hot and hard caramel crust.
Raspberry Tart
A sweet pastry crust filled with a light custard and bursting with fresh whole raspberries.
Bananas Foster
Bananas poached in a caramelized brandy sauce and served over fingers of spice cake.
Chocolate Dome
Alternating layers of cognac drenched vanilla genoise and chocolate mousse molded in a dome and coated with a thin layer of bittersweet chocolate. Garnished with fresh raspberries.